Its victims are bound to toil for little or no pay, are forced to engage in exploitative sex work, are married against their will. Its cost is individual freedom and economic stagnation. Its impact is global and no country is immune.
Andrew Forrest, Perth, Australia
Minderoo Foundation, 2019
Human slavery and human trafficking are global issues that have affected, and continue to affect, people of all ages, races, genders, and cultures in every country in the world.
Human trafficking is extremely profitable; after drug dealing it is tied with illegal arms trading as the second largest criminal enterprise in the world (USDOJ, 2016). Because human trafficking is often hidden and because of lack of identification with the victims, the general public has shown little interest in advocating for an end to these criminal activities. Healthcare providers, with the proper tools and training, can act as a critical resource in identifying victims and helping them to implement escape from their abusers.
Because these topics are frequently in the news and often confusing, it is important from the outset to understand that human trafficking is not the same as human smuggling. Human smuggling, although also illegal, is consensual whereas trafficking is done against a person's will (OTIP, 2017).
Source: OTIP, 2017.

Human Trafficking vs. Human Smuggling

Victims are forced, defrauded, or coerced into trafficking. Even if victims initially offer consent, that consent is rendered meaningless by the actions of the traffickers to exploit them for labor, services, or commercial sex.

Individuals consent to being smuggled. The transaction is mutual and ends upon arrival at desired destination.

Human trafficking is a crime committed against an individual.

Smuggling is a crime committed against a country.

Trafficking does not need to involve the physical movement of a person. Trafficking victimization can be transnational or domestic.

Smuggling involves the illegal transport of an individual across a national border. Smuggling is always transnational.
The International Labor Organization (an agency of the United Nations) estimates that, in 2016, 40.3 million people worldwide were victims of modern slavery. The ILO statistics focus on forced labor and forced marriage where forced labor encompasses forced labor in the private economy, forced sexual exploitation of adults, sexual exploitation of children, and state-imposed forced labor. These labor categories represent 24.9 million people, including an estimated 403,000 total victims in the United States. Overall, modern slavery disproportionally affects women and girls who make up 71% of victims, and children represent 1 in 4 victims (ILO, 2017; Minderoo, 2018).*
* Editor's note: Don't be lulled into apathy by the brightly colored images in this course. They are meant for memory devices but were designed as eye-catching public posters and not for healthcare professionals.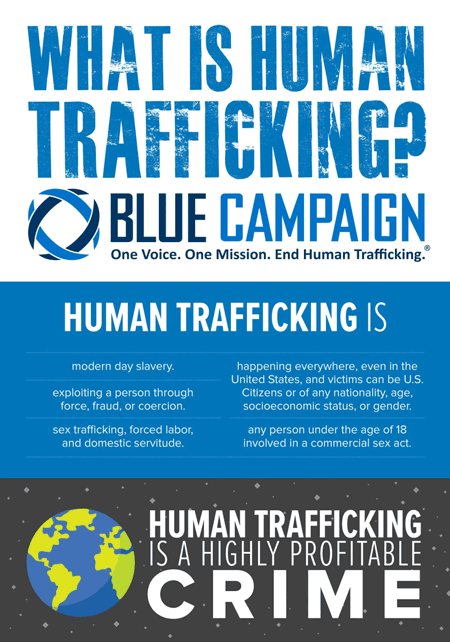 Source: USDHS, n.d.-a.