FL Approval: This course meets the domestic violence continuing education requirement for most healthcare providers in the State of Florida. Please check with your board to make sure this course is accepted for your profession.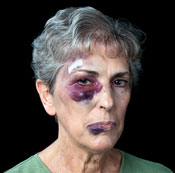 Shutterstock
For mail order or to view/download a printable copy of this course,
please click here
Authors:
   JoAnn O'Toole, RN, BSN
   Lauren Robertson, BA, MPT
   Susan Walters Schmid, PhD
Contact hours: 2
Expiration date: April 1, 2024
Course price: $18
Course Summary
The scope of domestic violence includes violence against women, children, and elders. Describes best practices for screening, assessment, and documenting signs of violence when seen in the healthcare setting. Outlines Florida reporting requirements and discusses state programs to reduce incidence.
The following course information applies to occupational therapy professionals:
Target Audience: Occupational Therapists, OTAs
Instructional Level: Introductory
Criteria for Successful Completion
Study the course material, achieve a score of 80% or higher on the post test (the post test can be repeated if a learner scores less than 80%), complete the course evaluation, and pay where required. No partial credit will be awarded.
Accreditation
To find specific accreditations or approvals, click here.
Course Objectives
When you finish this course you will be able to:
Define forms of intimate partner violence/domestic violence and explain the scope of the problem in the United States and in Florida.
List risk and protective factors for domestic violence.
Describe best practices for screening, assessment, and documentation of domestic violence in the healthcare setting.
Discuss Florida domestic violence legislation, programs, reporting requirements for healthcare professionals, and prevention and education programs.
Outline the economic and societal costs and consequences of domestic violence.
Identify social approaches to prevention and education.