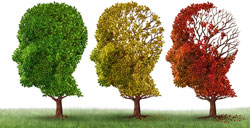 Shutterstock
For mail order or to view/download a printable copy of this course,
please click here
Author: Lauren Robertson, BA, MPT
Contact hours: 1
Expiration date: March 18, 2021
Course price: $10
Course Summary
This course will increase your awareness and understanding of Alzheimer's disease and related disorders. The first section defines dementia, describes how dementia affects the brain, and discusses how the symptoms of dementia differ from normal age-related changes. The second section discusses the stages of dementia along with symptoms and behaviors you might see during these stages. The last section describes communication challenges at the different stages of dementia and provides tips for communicating with people at those different stages.
Criteria for Successful Completion
A score of 80% or higher on the post test, a completed evaluation form, and payment where required. No partial credit will be awarded.
The following course information applies to occupational therapy professionals:
Target Audience: Occupational Therapists, OTAs
Instructional Level: Introductory
Content Focus: Category 1— Domain of OT, Client Factors
Accreditation
To find specific accreditations or approvals, click here. 
Course Objectives
When you finish this course you will be able to:
Define dementia.
Give 3 examples of normal changes in thinking that occur as we age.
Describe the first symptom you are likely to notice in someone in the early stage of Alzheimer's disease.
Give one characteristic each for Alzheimer's, frontal-temporal, vascular, and Lewy body dementia
Relate 1 symptom and behavioral change at each stage of ADRD.
Describe 2 challenges facing caregivers at each stage of ADRD.
Outline 3 strategies for communicating with residents at each stage of ADRD.