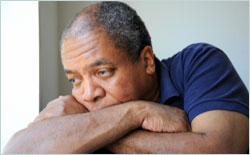 Shutterstock
For mail order or to view/download a printable copy of this course,
please click here
Authors:
   Nancy Evans, BS
   Tracey Long, RN, PhD, APRN
Contact hours: 2
Expiration date: August 1, 2024
Course price: $19
If you are licensed in West Virginia, please click here for the West Virginia version of this course.
Course Summary
An overview of post traumatic stress disorder (PTSD) and its implication for veterans, their families, and the community. Includes symptoms and diagnostic criteria, populations at risk for PTSD, treatment modalities, and resources for veterans, families, and healthcare providers.
The following course information applies to occupational therapy professionals:
Target Audience: Occupational Therapists, OTAs
Instructional Level: Introductory
Content Focus: Category 1—Domain of OT, Client Factors
Criteria for Successful Completion
Study the course material, achieve a score of 80% or higher on the post test (the post test can be repeated if a learner scores less than 80%), complete the course evaluation, and pay where required. No partial credit will be awarded.
Accreditation
To find specific accreditations or approvals, click here.
Course Objectives
When you finish this course you will be able to:
Define post traumatic stress disorder and discuss its implications for the family and community.
List 4 categories of PTSD symptoms and their diagnostic criteria.
Identify 5 populations at risk for PTSD.
Explain the CAPS-5 criteria for assessment and diagnosis of PTSD.
Compare and contrast 4 treatment modalities for PTSD.
List at least 4 resources where families and healthcare professionals can learn more about PTSD.