*This course has been retired. Please click here for the new Nevada Bioterrorism and Weapons of Mass Destruction course.
This course fulfills the bioterrorism continuing education requirement for all nurses licensed or seeking licensure in Nevada.
It is not approved and does not fulfill the bioterrorism CE requirement for physicians or physician assistants.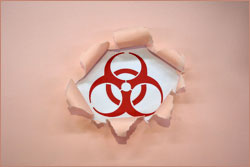 Shutterstock
For mail order or to view/download a printable copy of this course,
please click here
Author: Susan Walters Schmid, PhD
Contact hours: 4
Expiration date: February 1, 2023
Course price: $39
Course Summary
Defines terrorism, bioterrorism, and weapons of mass destruction and summarizes the diseases and agents most commonly used as chemical, biological, radiologic, and nuclear weapons. Outlines CDC recommendations and best practices and discusses the components and use of the Nevada Health Alert Network (HAN).
Criteria for Successful Completion
Study the course material, achieve a score of 80% or higher on the post test (the post test can be repeated if a learner scores less than 80%), complete the course evaluation, and pay where required. No partial credit will be awarded.
Accreditation
To find specific accreditations or approvals, click here.
Course Objectives
When you finish this course you will be able to:
Discuss the parameters of terrorism and terrorism-like events as a twenty-first-century political and social challenge, and identify shared elements not dependent on mechanism or definition.
Define bioterrorism, chemical terrorism, and weapons of mass destruction (WMD) and list four main types of WMD.
For a chemical weapons event, summarize the agents most commonly used, the epidemiologic clues to and symptoms of a chemical release, and the appropriate first-receiver actions.
For a bioterrorism event, outline the CDC's three categories of agents, the clinical features of high-priority agents, and the best practices and reporting procedures for first receivers.
Describe the clinical features and treatment of exposure or injury from radiation, including acute radiation syndrome (ARS), and outline ways to protect staff and patients during a radiation incident.
Discuss the components and use of the Nevada Health Alert Network (NVHAN).