This course fulfills the requirement for training related to Alzheimer's Disease and Related Dementias for Massachusetts healthcare professionals.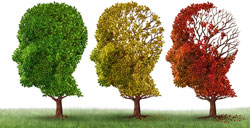 Shutterstock
For mail order or to view/download a printable copy of this course,
please click here
Authors:
   Lauren Robertson, BA, MPT
   Susan Walters Schmid, PhD
Contact hours: 3
Expiration date: September 1, 2024
Course price: $29
Course Summary
This purpose of this course is to provide direct-care staff in nursing homes, hospice, and adult daycare with the skills, techniques, and strategies to care on a daily basis for residents who have Alzheimer's disease or a related dementia. It includes activities that allow participants to practice the skills and strategies they have learned.
Criteria for Successful Completion
Study the course material, achieve a score of 80% or higher on the post test (the post test can be repeated if a learner scores less than 80%), complete the course evaluation, and pay where required. No partial credit will be awarded.
Accreditation
To find specific accreditations or approvals, click here.
Course Objectives
When you finish this course you will be able to:
Outline types of dementia and the process and diagnosis of Alzheimer's disease.
Identify 5 common behavioral and psychological symptoms of dementia.
Discuss the use of physical or chemical restraint versus non-pharmacological interventions for persons with dementia.
Describe how mild, moderate, and severe dementia affects a person's ability to complete basic activities of daily living (ADLs).
Relate the 3 components each that should be part of individual and group activities for residents with dementia.
Summarize tasks of , stressors for, and support available to family caregivers.
List 3 concepts that are important in the design of a therapeutic environment for those with dementia.
Identify 4 concepts that are part of an ethical approach to dementia care.