Over the past decade, advances in treatment have yielded new drug combinations, once-daily dosing, and, most recently, the introduction of long-acting injectables for pre- and post-exposure prevention and treatment.
Liz Scherer, WebMD Health News
September 2, 2021
National HIV/AIDS Strategy
In July 2010, the White House released the National HIV/AIDS Strategy, a comprehensive roadmap for reducing the impact of HIV. The strategy sets clear priorities and targets for HIV prevention and care in the U.S. and calls on government agencies and their public and private partners to align efforts toward a common purpose (CDC, 2020, May 12).
The strategy includes ambitious prevention goals for the next 5 years:
Lower the annual number of new infections by 25%
Increase from 79 to 90% the percentage of people living with HIV who know of their infection
Reduce the HIV transmission rate by 30%
Increase the percentage of newly diagnosed people linked to care within 3 months from 65 to 85%
Increase the proportion of HIV-diagnosed gay and bisexual men, African Americans, and Latinos with undetectable viral load by 20%
CDC, 2020, May 12
The National HIV/AIDS Strategy has clear priorities for increasing the impact of HIV prevention efforts in reducing new infections:
Intensify HIV prevention in the communities where HIV is most heavily concentrated
Expand targeted use of effective combinations of evidence-based HIV prevention approaches
Educate all Americans about the threat of HIV and how to prevent it
CDC, 2020 May 12
CDC and its partners are pursuing a High-Impact Prevention approach to reducing new HIV infections. This refers to the use of combinations of scientifically proven, cost-effective, and scalable interventions targeted to the right populations in the right geographic areas, and it is intended to increase the impact of HIV prevention efforts.
Syringe Exchange Programs
Syringe exchange programs (SEPs) provide free sterile syringes in exchange for used syringes to reduce transmission of bloodborne pathogens among injection-drug users. SEPs in the U.S. began as a way to prevent the spread of HIV and other bloodborne infections such as HBV and HBC. People who choose to inject drugs are encouraged to use a new, sterile syringe for each injection. There are approximately 950,000 U.S. residents living with HIV/AIDS—25% of infections are directly linked to injection drug use.
As of November 2021, a total of 185 syringe exchange programs were operating in 36 states, the District of Columbia, and Puerto Rico (ACLU, 2021). Florida approved needle exchange programs (NEPs) in 2019 and added education, counseling, testing and efforts to control the opioid epidemic by handing out free Narcan (Mack, 2019).
HIV Prevention Through Behavior Change
Several studies have shown that broad behavioral change programs have been central to reversing national epidemics. Hundreds of studies have demonstrated that individual, small group, and community-level interventions can generate safer behaviors (Vu et al., 2015).
Behavioral changes include reducing the number of sexual partners, improving treatment adherence, increasing the availability of clean needles, and increasing the correct use of condoms. These prevention programs target individual behavior and try to address underlying drivers of the epidemic. Media helps by promoting public awareness and encouraging broad-based efforts aimed at altering social norms.
Successful behavioral change and prevention programs emphasize:
Treating sexually transmitted infections
Encouraging medical male circumcision
Providing substitution therapy for chemical dependence
Providing access to clean injecting equipment
These interventions have led to some dramatic successes within resource-limited settings throughout the world. Countries in a wide variety of settings have contributed to changes in HIV risk behaviors and have saved countless lives. National implementation of these HIV-prevention efforts has been associated with a 50% to 90% decline in HIV incidence and prevalence in key populations.
For people at high risk for HIV infection, behavioral surveillance is conducted by the CDC using the National HIV Behavioral Surveillance (NHBS) system. Surveillance is conducted in rotating, annual cycles in three different populations at increased risk for HIV (CDC, 2021, October 3):
Gay, bisexual, and other men who have sex with men (MSM cycle).
Persons who inject drugs (PWID); known as the injection drug use or IDU cycle, and
Heterosexually active persons at increased risk for HIV infection (HET cycle).
NHBS collects data relating to behavioral risk factors for HIV such as sexual behaviors, drug use, HIV testing behaviors, the receipt of prevention services, and use of prevention strategies (e.g. condoms, PrEP). All NHBS participants are offered an HIV test (CDC, 2021, October 3).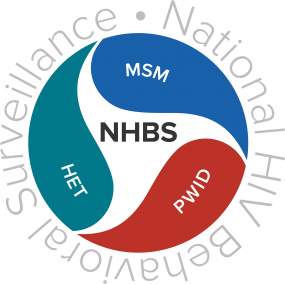 National HIV Behavioral Surveillance. PWID = people who inject drugs; MSM = men who have sex with men; HET = heterosexual. Source: CDC.
The data collected by NHBS is used to provide a behavioral context for trends seen in HIV surveillance data. Focusing on populations at increased risk for HIV infection provides information about the leading edge of the epidemic. NHBS monitors the impact of the National HIV/AIDS Strategy, which focuses on decreasing HIV incidence, improving linkage to care, and reducing disparities (CDC, 2021, October 3).
The Florida Department of Health, HIV/AIDS Section has implemented the NHBS system in Florida to monitor behaviors that place people at risk for HIV infection. This provides data on 1) trends in sexual and drug-use risk behaviors, 2) HIV prevalence and incidence, 3) HIV testing patterns, and 4) the use and impact of prevention services (FDOH, 2021, March 5).
The Florida project is known locally as ACXION (Assessing Characteristics of population X In ON-going surveillance). In collaboration with the University of Miami, the Florida HIV/AIDS Section, and the CDC, consenting participants complete an anonymous interview consisting of a NHBS questionnaire and a local questionnaire tailored to South Florida. Local questions address topics such as crystal methamphetamine use, use of the internet for high-risk behaviors, depression, and social support. Participants also receive anonymous HIV counseling and testing, as well as referrals to psychosocial and healthcare services (FDOH, 2021, March 5).
HIV Vaccine
Development of a safe, effective, preventive HIV vaccine remains key to realizing an end to the HIV/AIDS pandemic. Developing an HIV vaccine is challenging because HIV mutates rapidly and has unique ways of evading the immune system. There are no documented cases of a person living with HIV developing an immune response that cleared the infection (NIAID, 2019).
There is growing confidence that a vaccine for HIV is coming. As with the COVID-19 vaccine, the proposed vaccine is based on an mRNA* model. "We know that ultimately, we are going to have to induce broadly neutralizing antibodies against more than one target," says Mark Feinberg, president, and CEO of the International AIDS Vaccine initiative. The work is promising but has not yet produced the desired vaccine (WebMD, 2021, November 3).
*mRNA: Messenger RNA (mRNA) vaccines teach cells how to make a protein that will trigger an immune response inside our bodies.
COVID-19 and HIV Prevention Programs
The damage done to HIV programs by COVID-19 varies across countries. There have been substantial setbacks, particularly during the first six months of the pandemic (UNAIDS, December 1, 2021).
Harm reduction services for people who use drugs were disrupted in nearly two thirds of 130 countries surveyed in 2020. Voluntary medical male circumcision programs were also badly disrupted in 2020, with some countries suspending the procedures altogether (UNAIDS, December 1, 2021).
The pace of HIV testing declined almost uniformly, HIV diagnoses decreased, and fewer people living with HIV initiated treatment in 2020 in 40 of the 50 countries that reported data to UNAIDS. The biggest disruptions were in the first half of 2020, when many countries were in their first lockdowns and HIV programs were scrambling to adapt (UNAIDS, December 1, 2021).
The number of people living with HIV receiving antiretroviral therapy increased slightly between January and June 2020. This was followed by a larger increase from July 2020 to December 2020, reaching 27.3 million people and another increase during the first six months of 2021. At the end of June 2021, there were 28.2 million people living with HIV on treatment globally (UNAIDS, December 1, 2021).