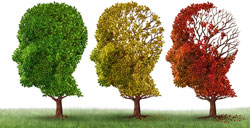 Shutterstock
For mail order or to view/download a printable copy of this course, 
please click here.
Author: Lauren Robertson, BA, MPT
Contact hours: 6
Expiration date: November 1, 2023
Course price: $39
Course Summary
This course will increase your awareness and understanding of Alzheimer's disease and related disorders. The first section defines dementia, describes how dementia affects the brain, and discusses how the symptoms of dementia differ from normal age-related changes. The second section discusses the stages of dementia along with symptoms and behaviors you might see during these stages. The last section describes communication challenges at the different stages of dementia and provides tips for communicating with people at those different stages.
The following course information applies to occupational therapy professionals:
Target Audience: Occupational Therapists, OTAs
Instructional Level: Intermediate
Content Focus: Category 1—Domain of OT, Client Factors
Category 2—Occupational Therapy Process, Outcomes
Criteria for Successful Completion
Study the course material, achieve a score of 80% or higher on the post test (the post test can be repeated if a learner scores less than 80%), complete the course evaluation, and pay where required. No partial credit will be awarded.
Accreditations
To find specific accreditations or approvals, click here.
Course Objectives
When you finish this course you will be able to:
Describe three differences between Alzheimer's dementia and non-Alzheimer's dementia.
State the three National Institute on Aging and the Alzheimer's Association stages of dementia.
Identify three barriers that may contribute to a missed or delayed diagnosis of dementia.
In terms of onset, cause, and duration, distinguish among dementia, delirium, and depression.
List three common behavioral and psychological symptoms of dementia.
Identify five other common behaviors often attributed to dementia.
Explain the action of the two main classes of medications prescribed for Alzheimer's disease.
State three ways in which dementia affects a person's ability to complete activities of daily living.
Describe three ways in which exercise appears to positively impact in people with dementia.
Relate the three components that should be part of any activities program for anyone with dementia.
Discuss three ways in which stress can affect a caregiver's quality of life.