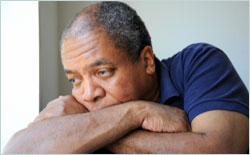 Shutterstock
For mail order or to view/download a printable copy of this course,
please click here
Author: Jed Diamond, MA, LCSW, PhD
Contact hours: 4
Expiration date: November 1, 2024
Course price: $10
Course Summary
This course looks at the nature of depression and how it relates to gender. Discusses sex bias in diagnosis and gender differences in suicide rates. Introduces irritable male syndrome and its causes. Presents an instrument for assessing male depression, the Diamond Male Depression Scale, and explains its development and use.
The following course information applies to occupational therapy professionals:
Target Audience: Occupational Therapists, OTAs
Instructional Level: Intermediate
Content Focus: Category 1—Domain of OT, Client Factors
 
Criteria for Successful Completion
Study the course material, achieve a score of 80% or higher on the post test (the post test can be repeated if a learner scores less than 80%), complete the course evaluation, and pay where required. No partial credit will be awarded.
Accreditation
To find specific accreditations or approvals, click here. 
Course Objectives
When you finish this course you will be able to:
Explain why gender matters in regards to depression.
Discuss the nature of depression and how it manifests.
Distinguish between sex and gender and their roles in depression.
Define Irritable Male Syndrome and enumerate its causes.
Debate the existence of sex bias in the diagnosis of depression.
Show the need for an instrument for assessing male depression.