Definitions
Suicide: death caused by self-directed injurious behavior with intent to die.
Suicide attempt: when someone harms themselves with any intent to end their life, but they do not die because of their actions.
Suicidal ideation: thinking about, considering, or planning suicide.
Source: CDC, 2022, May 24.
Suicide Among the General Population
In the United States, suicide affects people of all ages, genders, and ethnic groups, regardless of socioeconomic status. Among children, teenagers, and young adults, suicide is the second leading cause of death, while among middle-aged adults, suicide is the fifth leading cause of death (NCHS, 2022, March 3).
In 2021, more than 48,000 Americans died from suicide, making it the eleventh leading cause of death overall. Remarkably, in 2020 there were nearly twice as many suicides in the U.S. as homicides (NCHS, 2023, January 18). Suicide attempts are much more frequent than completed suicides, with an estimated 1.3 million suicide attempts among U.S. adults each year (Moscardini et al., 2020).
The National Strategy for Suicide Prevention—updated in 2012—has expanded prevention efforts with the goal of improving our understanding of suicide prevention practices within healthcare systems and communities. Because of these national efforts, organizations and businesses that had not previously viewed suicide prevention as part of their mission have become engaged in efforts to reduce suicide (HHS, 2021, January 19).
In 2019, the President's Roadmap to Empower Veterans and End a National Tragedy of Suicide (PREVENTS) was launched and in July of 2022 the Federal Communications Commission designated 988 as the national number for mental health crises (HHS, 2021, January 19).

Source: SAMHSA, 2022.
During the COVID pandemic, there was a record increase in homicide rates and a spike in the number of drug overdose deaths. It was thought that suicides would follow the same pattern—particularly after suicides had risen every year between 2004 and 2019. However, between 2018 and 2019, there was a minor decline in suicide, which continued into the pandemic year of 2020 (CDC, 2021, November 5).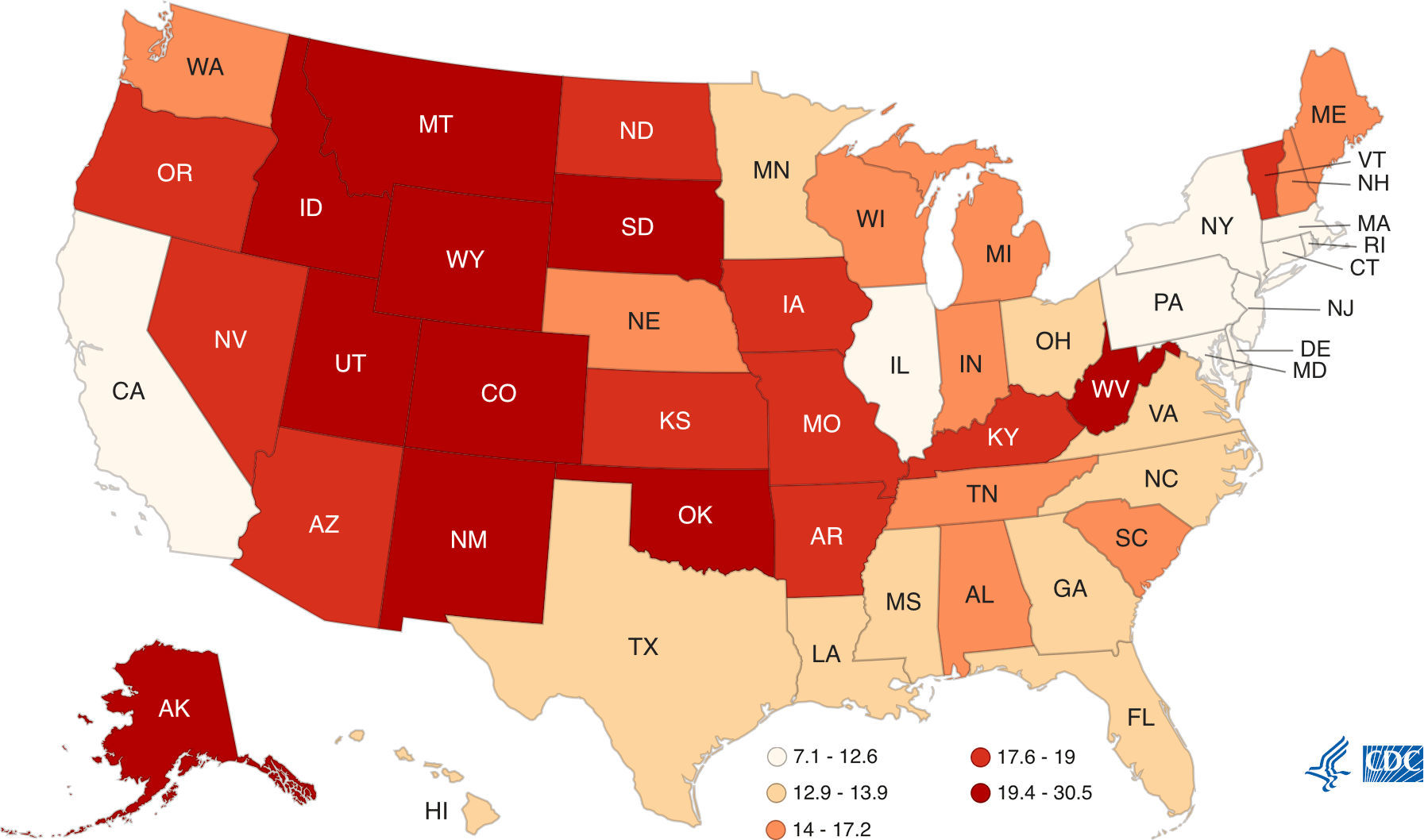 Suicide rates vary from state to state. Western states (excluding California), have some of the highest rates of suicide in the country. Source: CDC.
Suicide in Kentucky
In 2020, Kentucky ranked 17th nationally in suicide rates. There are a host of characteristics that place its residents at increased risk for suicidal ideation and behaviors. Specifically, Kentucky is a predominantly rural state, highly affected by poverty. Substance use is a long‐standing problem that has reached epidemic proportions. In 2020, Kentucky had the second highest drug overdose mortality in the country (Salt et al, 2022).
During the COVID pandemic, there was a documented increase in Kentucky in suicidal ideation in inpatient, outpatient, and emergency departments. Although nearly all demographic groups were negatively affected, certain demographic subgroups more highly affected in comparison to others. Specifically, males 14‐17 years of age, Black and Hispanic residents, and those residing in rural areas had increased rates of documented suicidal ideation (Salt et al, 2022). 
Suicide Among Nurses
For nurses and other healthcare providers, a web of biological, psychological, social, environmental, and situational concerns can influence suicidal ideation and behaviors. Between 2007 and 2018, the incidence of suicide among nurses nationally was significantly greater than among the general population; in contrast, the incidence among physicians was not statistically different from that of the general population (Davis et al., 2021).
The methods of suicide and substances identified during the toxicology examinations for nurses and physicians are similar, with some evidence of higher substance use compared with individuals in the general population who die by suicide. Nurses who died by suicide had the highest rate of antipsychotics, opiates, and amphetamines in the toxicology examination (Davis et al., 2021).
Unfortunately, minimal attention has been paid to preventing suicide among nurses compared to physicians, although there are similar considerations with burnout, depression, and suicide risk among both groups. Suicide among nurses in the U.S. is not systematically evaluated or reported at a local or national level through public or professional agencies (Davidson, Stuck, Zisook, Proudfoot, 2018a).
Key Points about Suicide
Suicide is a preventable public health problem, not a weakness or failure.
Everyone has a role to play in prevention.
Prevention involves changing risk factors and improving protective factors.
Suicide does not affect all communities equally or in the same way.
People experiencing suicidal thinking and behaviors deserve dignity, respect, and the right to make decisions about their care.