This course has been approved by The Commission for Case Manager Certification.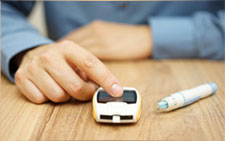 Shutterstock
For mail order or to view/download a printable copy of this course,
please click here
Author: Tracey Long, PhD, RN, APRN
Contact hours: 4
Expiration date: October 1, 2024
Course price: $29
Course Summary
Healthcare professionals who are not diabetes educators are still often called upon to teach diabetes patients techniques of self-care. This involves an understanding about how adults learn and how to create an environment that supports their learning. It is essential to the daily life and future of people with diabetes that they understand and practice self-care so they can manage a disease that can be devastating if it is left unchecked.
The following course information applies to occupational therapy professionals:
Target Audience: Occupational Therapists, OTAs
Instructional Level: Intermediate
Content Focus: Category 1—Domain of OT, Client Factors
Category 2—Occupational Therapy Process, Outcomes
Criteria for Successful Completion
Study the course material, achieve a score of 80% or higher on the post test (the post test can be repeated if a learner scores less than 80%), complete the course evaluation, and pay where required. No partial credit will be awarded.
Accreditation
To find specific accreditations or approvals, click here. 
Course Objectives
When you finish this course you will be able to:
Explain the four classes of diabetes and how they differ from one another.
Discuss the ways you can motivate a diabetes patient using at least two of the education models presented here.
Be prepared to create a lesson plan for a patient, with the goal of achieving a specific new aspect of self-care.