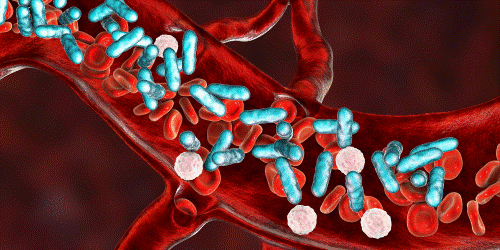 Shutterstock
For mail order or to view/download a printable copy of this course,
please click here
Authors:
     Michael Jay Katz, MD, PhD
     Tracey Long, PhD, RN, APRN
     JoAnn O'Toole, RN, BSN
Contact hours: 5
Expiration date: June 1, 2023
Course price: $29
Course Summary
This course provides you with a thorough examination of the epidemiology and pathophysiology of sepsis. It covers diagnosis of sepsis and septic shock. It describes treatment strategies, supportive therapy, and other treatment considerations. It also discusses key elements of the Surviving Sepsis Campaign.
The following course information applies to occupational therapy professionals:
Target Audience: Occupational Therapists, OTAs
Instructional Level: Intermediate
Content Focus: Category 1—Domain of OT, Client Factors
Criteria for Successful Completion
Study the course material, achieve a score of 80% or higher on the post test (the post test can be repeated if a learner scores less than 80%), complete the course evaluation, and pay where required. No partial credit will be awarded.
Accreditation
To find specific accreditations or approvals, click here.
Course Objectives
When you finish this course you will be able to:
Explain the pathophysiology of sepsis.
Define sepsis, severe sepsis, and septic shock.
Identify 3 groups of people with the highest risk of developing sepsis.
Summarize 3 important components of the body's response to infection during a septic reaction.
Name 3 important diagnostic signs and laboratory values of sepsis.
Discuss the clinical presentation of septic shock.
Explain the 3-hour and 6-hour bundles associated with treatment of sepsis.
Name 2 elements of supportive therapy in severe sepsis.
Identify 5 predictive risk factors for increased mortality from sepsis.
Explain the scoring system for determining a prognosis in sepsis.
Discuss prevention approaches to sepsis.
Explain the patient experience with sepsis and care measures.