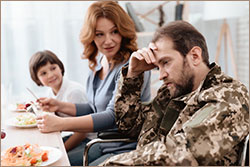 Shutterstock
For mail order or to view/download a printable copy of this course,
please click here
Author: Sara Wilson, BA
Contact hours: 4
Expiration date: August 1, 2024
Course price: $19
Course Summary
This course addresses the healthcare challenges of today's returning Veterans and describes the resources available to them. It explains the importance of screening for military service by health professionals when seeing a patient for the first time. Following a discussion of the health conditions seen in Veterans, it explains the principles of rehabilitation and reintegration that underlie their focused care.
The following course information applies to occupational therapy professionals:
Target Audience: Occupational Therapists, OTAs
Instructional Level: Introductory
Content Focus: Category 1—Domain of OT, Client Factors
Criteria for Successful Completion
Study the course material, achieve a score of 80% or higher on the post test (the post test can be repeated if a learner scores less than 80%), complete the course evaluation, and pay where required. No partial credit will be awarded.
Accreditation
To find specific accreditations or approvals, click here.
Course Objectives
When you finish this course you will be able to:
Describe veterans' healthcare challenges and identify how to find the locations of VA health centers in the nation.
Recount 4 ways that veterans can access community-centered healthcare if they cannot use a VA health center.
Explain the importance of screening for military service, veteran status, or being a family member of a veteran.
Discuss posttraumatic stress disorder, suicide risk, depression, grief, substance abuse, and intimate partner violence and explain how each may arise in military veterans and their families.
Name 3 ways that providers can receive additional education or training to assist them in serving veterans and their families.
Explain the principles of rehabilitation and reintegration and list 3 ways you can make appropriate referrals.