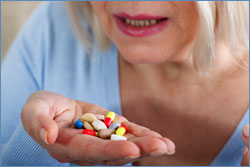 Shutterstock
For mail order or to view/download a printable copy of this course,
please click here
This course meets the nursing requirement for coursework in drug diversion and best practice prescribing of controlled substances mandated by West Virginia Senate Bill 437. 
Author: Sara Wilson, BA
Contact hours: 3
Expiration date: April 1, 2024
Course price: $29
Course Summary
Evidence-based information about the problem of drug diversion and the best practices for prescribing controlled substances, including safeguards to prevent diversion, misuse, abuse, addiction, and overdose deaths.
Criteria for Successful Completion
Study the course material, achieve a score of 80% or higher on the post test (the post test can be repeated if a learner scores less than 80%), complete the course evaluation, and pay where required. No partial credit will be awarded.
Accreditation
To find specific accreditations or approvals, click here.
Course Objectives
When you finish this course you will be able to:
Describe the 5 Schedules of medications under the Controlled Substances Act and give examples of each.
Compare and contrast acute and chronic pain and discuss the trends in treatment of chronic pain.
Identify the demographic of drug abusers in U.S. society and cite five groups from whom they may get drugs.
State 7 symptoms of drug withdrawal from opioids at and least 4 best practice recommendations by the West Virginia Board of Medicine.
Name 3 categories of risk factors for opioid abuse and addiction and demonstrate ability to create a treatment plan for an abuser.
Explain informed consent and name 5 elements set forth by the Federation of State Medical Boards.
List the 7 assessment tools for monitoring ongoing opioid therapy.
State at least 5 precautions to follow when tapering the patient off of opioids.
Describe West Virginia's Prescription Drug Monitoring Program (PDMP) and explain drug take-back programs.
Define diversion, opioid use disorder, recovery, and relapse.