COVID-19 Pandemic: A World in Turmoil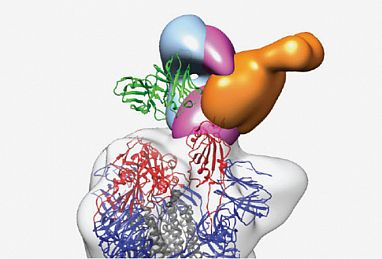 Neutralizing antibodies (blue, purple, orange) bound to the receptor binding domain on a SARS-CoV-2 spike protein. Christopher O. Barnes and Pamela J. Bjorkman, California Institute of Technology.
All of us get nearly daily updates on the coronavirus, and sometimes they contradict each other. ATrain Education has taken a long view of SARS-CoV-2 to bring you the best available comprehensive information. This includes the origin of the virus; understanding the chain of infection; an explanation of R Naught (R0, the basic reproduction number); the reason the USA can't look forward to herd immunity; the status of testing and vaccines; the reasons for public health directives; the history of coronaviruses; and the dire impacts of the virus on minority populations.
Lauren Robertson, BA, MPT
JoAnn O'Toole, RN, BSN
Nancy Evans, BS

ATrain Education is an AOTA Approved Provider of professional development. Approved provider #6558. This distance learning-independent is offered at 1.0 CEUs, introductory, Foundational Knowledge. The assignment of AOTA CEUs does not imply endorsement of specific course content, products, or clinical procedures by AOTA.