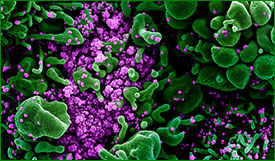 National Institutes of Health
Authors:
     Lauren Robertson, BA, MPT
     JoAnn O'Toole, RN, BSN
     Nancy Evans, BS

Contact hours: 10
Expiration date: September 1, 2022
Course price: $29
Updated January 24, 2022
Please see our COVID-19 Blog for late-breaking articles and information about the COVID-19 pandemic.
Please see our other COVID-19 courses:
Course Summary
All of us get nearly daily updates on the coronavirus, and sometimes they contradict each other. ATrain Education has taken a long view of SARS-CoV-2 to bring you the best available comprehensive information. This includes the origin of the virus; understanding the chain of infection; an explanation of R Naught (R0, the basic reproduction number); the reason the USA can't look forward to herd immunity; the status of testing and vaccines; the reasons for public health directives; the history of coronaviruses; and the dire impacts of the virus on minority populations.
The following information is for occupational therapy professionals:
Target Audience: Occupational Therapists, OTAs
Instructional Level: Introductory
Content Focus: Foundational Knowledge: Human Body Development, and Behavior; Social Determinants of Health
Criteria for Successful Completion
Study the course material, achieve a score of 80% or higher on the post test (the post test can be repeated if a learner scores less than 80%), complete the course evaluation, and pay where required. No partial credit will be awarded.
Accreditation
To find specific accreditations or approvals, click here.
Course Objectives
When you finish this course you will be able to:
Relate the 4 different types of human coronaviruses.
State the 6 components of the chain of infection.
Define R naught, the basic reproductive number.
Understand 3 reasons why herd immunity does not work during a pandemic.
Understand 3 differences between a viral test and an antibody test.
Understand the difference between a live-attenuated vaccine and an inactivated vaccine.
Remember 4 of the most effective public health measures used during a pandemic.
State 5 ways in which COVID-19 has adversely affected poor and minority communities.