For PT and PTA healthcare professionals in Florida, this course meets the two-unit requirement on prevention and reporting of medical errors for initial licensure or biennial renewal.
For other healthcare professionals in Florida, please go to Florida: Preventing Medical Errors.
If you are unsure, please call us or check with your board before taking this course.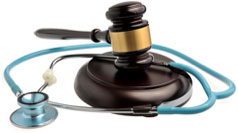 Shutterstock
Authors:
     JoAnn O'Toole, RN, BSN
     Susan Walters Schmid, PhD
Contact hours: 2
Expiration date: December 31, 2021
Course price: $19
Target Audience: FL PT or PTA Professionals
Education Level: Introductory
Course Summary
Outlines seven types of medical errors and the Florida laws related to them. Describes factors that increase the risk of committing a medical error and populations that are especially vulnerable to such errors. Presents five commonly used approaches that have been effective in reducing medical errors.
Criteria for Successful Completion
Study the course material. Achieve a score of 80% or higher on the post test (the post test can be repeated if a learner scores less than 80%), complete the course evaluation, and pay where required. No partial credit will be awarded.
Accreditation
To find specific accreditations or approvals, click here. Accreditation of this course does not necessarily imply the FPTA supports the views of the presenter or the sponsors.
Course Objectives
When you finish this course you will be able to:
Name several landmark pieces of legislation that have attempted to reduce medical errors.
Summarize Florida laws and requirements related to medical errors and describe the impact of the Patient Safety Quality and Improvement Act on healthcare practices in the United States.
Outline the seven main classifications of medical errors.
Identify factors and practices that increase the risk of committing a medical error.
Discuss populations that are particularly vulnerable to the effects of medical errors.
State several healthcare practices that will reduce medical errors and create a culture of patient safety.
State several measures the public can do to help reduce medical errors.
Explain the systems approach to medical errors and assess commonly used systems approaches shown to be effective.