Human trafficking does occur in the United States. It is a global problem that does not discriminate against any age, gender, or race. The United States is the second largest sex trafficking market in the world (Lake, 2017). Healthcare providers are important figures in this battle as advocates for victims.
Training for all healthcare workers on signs of trafficking is imperative to change these victims into survivors with a chance for recovery. The fight doesn't end when they are removed from their abuser. Support will need to continue as they begin the healing process. Healthcare providers at all levels can make a positive impact as they help in the recovery process and re-acclimate the survivors to a new and healthy life.
Setbacks are common as many suffer from post traumatic stress issues, anxiety, and depression. Physical or mental scars must be dealt with once they are free from their captures. Support and encouragement from healthcare professionals may be all the assistance a victim has. Even when no physical abuse is evident, mental abuse can be hidden and even more damaging. Survivors likely will have to deal with the memories and trauma for the remainder of their life.
A public health approach to target anti-trafficking efforts can help to reduce the risk of the most vulnerable populations (OTIP, 2017). Local organizations should work collaboratively to provide the best possible resources for the victims of human trafficking.
Collaboration and training of all healthcare workers is only the beginning. A great deal of work must continue to support survivors. This work is not easy. To expose trafficking victims without a plan to address their complex situations can endanger them (Rothman et al., 2017). We must do our best to turn victims into survivors, directing them to the resources designed to give them back their life and freedom.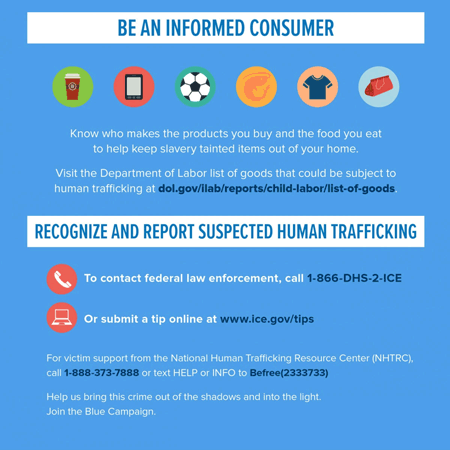 Source: DHS, 2022.