This course meets the HIV 3-unit continuing education requirement for the following healthcare professions in the State of Florida: nursing, CNAs, PT, OT, respiratory therapy, massage therapy, clinical lab personnel, athletic training, podiatry, dietietics and nutrition, midwifery, medical physics, electrology, EMTs, and paramedics. If you need only one unit, please go to our Florida HIV-1 course offering.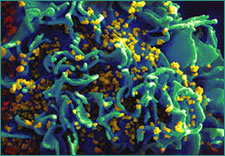 Shutterstock
For mail order or to view/download a printable copy of this course,
please click here
Authors:
Lauren Robertson, BA, MPT
Susan Walters Schmid, PhD
Contact hours: 3
Expiration date: November 1, 2022
Course price: $24
Course Summary
Comprehensive discussion of HIV and AIDS in Florida, including the cause and mechanism of HIV infection, basic components of HIV antibody testing and confirmation, and initial evaluation and clinical management of HIV patients.
The following course information applies to occupational therapy professionals:
Target Audience: Occupational Therapists, OTAs
Instructional Level: Intermediate
Content Focus: Category 1—Domain of OT, Client Factors
Category 3—Professional Issues, Legal, Legislative, and Regulatory Issues
Criteria for Successful Completion
Study the course material, achieve a score of 80% or higher on the post test (the post test can be repeated if a learner scores less than 80%), complete the course evaluation, and pay where required. No partial credit will be awarded.
Accreditation
To find specific accreditations or approvals, click here.
Course Objectives
When you finish this course you will be able to:
Discuss the prevalence and incidence of HIV and AIDS.
Identify the cause of HIV infection and the mechanisms of infection and transmission of HIV.
Outline the basic components of HIV antibody testing and confirmation.
Describe infection control practices shown to prevent transmission of HIV.
Discuss managing a possible occupational exposure to HIV.
Explain the initial evaluation and clinical management of HIV patients, including antiretroviral therapy.
Identify the special populations who may be especially vulnerable to HIV-infection.
Spell out HIV prevention strategies, including behavioral change management and needle exchange programs.
Discuss the psychosocial issues associated with HIV and AIDS infection.
Name the main components of the Florida Omnibus AIDS Act