Child abuse and neglect is not a new phenomenon—it has been documented for more than two thousand years. For most of human history children had no rights in the eyes of the law and it was unthinkable that the law would intervene in the domain of the family.
In 1860 Ambroise Tardieu, a French forensic physician—in a treatise entitled Forensic Study on Cruelty and the Ill-Treatment of Children—was one of the first medical professionals to provide a clinical definition of battered child syndrome. Tardieu detailed 32 cases of battered child syndrome, including 18 that ended in the death of the child.
In the United States, one of the first legal responses to child abuse occurred in 1874. In a case that was to have significant repercussions, Henry Bergh, founder of the New York Society for the Prevention of Cruelty to Animals (SPCA) and acting as a private citizen, pleaded in court to have an 8-year-old child named Mary Ellen Wilson removed from her abusive and neglectful environment.
Mr. Bergh was persuaded to intervene by Etta Wheeler, a Methodist mission worker who had been following the child's case. Although there were laws in New York that allowed the state to remove neglected children from their homes, New York City authorities had been reluctant to take up Mary Ellen's cause (Watkins, 1990). During a court hearing, Mr. Bergh emphasized that he was "determined within the framework of the law to prevent the frequent cruelties practiced on children" (Watkins, 1990).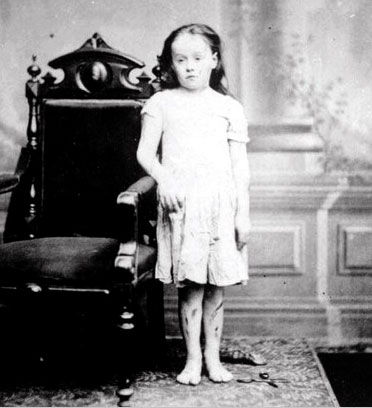 Source: Wikipedia, public domain.
As a result of Mr. Bergh's and Ms. Wheeler's advocacy, Mary Ellen was removed from her abusive situation and placed in an institutional shelter for adolescent girls. Uncomfortable with this placement, Ms. Wheeler intervened again and received permission to send Mary Ellen to live with her own mother in upstate New York. When Ms. Wheeler's mother died, Mary Ellen went to live with Ms. Wheeler's sister and her husband. Mary Ellen eventually married and had two daughters. She died in 1956 at the age of 92 (Watkins, 1990). Mary Ellen's case led to the formation of societies in many states to protect children from cruelty.
In the 1950s and early 1960s, articles published by several pediatricians drew attention to the occurrence of fractures and brain injuries in children at the hands of caretakers. In 1961 C. Henry Kempe, a physician and president of the American Academy of Pediatrics, convened a conference on "the battered child syndrome", in which he argued that doctors had a "duty" to the child to prevent "repetition of trauma." The Battered Child Syndrome Conference resulted in many states' passing laws to protect children from physical abuse. By 1967, all 50 states had succeeded in passing mandatory child abuse reporting laws.
Child abuse is now recognized as a problem of epidemic proportions, with serious consequences that can cause indelible pain throughout the victim's lifetime. Unfortunately, violent and negligent parents and caretakers serve as a model for children as they grow up. The child victims of today, without protection and treatment, may become the child abusers of tomorrow.