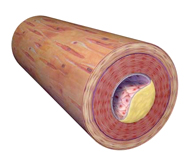 3D Science
Authors:
     Tracey Long, PhD, RN, APRN
     JoAnn O'Toole, RN, BSN
Contact hours: 8
Expiration date: December 31, 2022
Course price: $39
Course Summary
Traces the gradual development of the atherosclerosis that underlies CAD and includes causes, risk factors, diagnosis, management, and complications. Concludes with the components of a cardiac rehabilitation program.
The following course information applies to occupational therapy professionals:
Target Audience: Occupational Therapists, OTAs
Instructional Level: Intermediate
Content Focus: Category 1—Domain of OT, Client Factors
Criteria for Successful Completion
Study the course material, achieve a score of 80% or higher on the post test (the post test can be repeated if a learner scores less than 80%), complete the course evaluation, and pay where required. No partial credit will be awarded.
Accreditation
To find specific accreditations or approvals, click here.
Course Objectives
When you finish this course you will be able to:
Define coronary artery disease, including its etiology and major forms.
Name the 4 elements of CAD—its epidemiology—that the government tracks.
Name and trace the 2 major coronary arteries and their immediate branches.
Describe atherosclerotic plaque and explain how it contributes to CAD.
List at least 5 symptoms and/or diagnostic procedures that will lead to a diagnosis of CAD.
Name 4 of the various medical responses in managing CAD.
Discuss 3 major complications of CAD.
List at least 6 elements of cardiac rehabilitation.