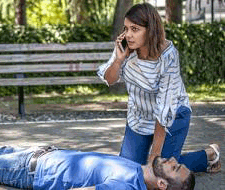 Source: National Library of Medicine.
There has been a dramatic increase in the acceptance and use of prescription opioids for the treatment of chronic non-cancer pain, despite serious risks and the lack of evidence about their long-term effectiveness. Although the total number of drug overdose deaths had decreased in the years prior to the COVID-19 pandemic, overdose deaths remain 4 times higher than in 1999 (CDC, 2020, March 19).
Breaking overdose deaths down by category shows the following:
Prescription opioids overdose deaths have decreased by 13.5%.
Heroin overdose deaths have decrease by 4%.
Synthetic opioids overdose deaths (excluding methadone) increased by 10% in 2018. (CDC, 2020, March 19)
Percent of Opioid Deaths
Nearly 85% of overdose deaths involved illicitly manufactured fentanyls, heroin, cocaine, or methamphetamine (alone or in combination).
Source: CDC, 2020, September 4.
Most-Abused Drugs
The three classes of most-abused prescription drugs are:
Opioids that include oxycodone (Percocet, Tylox, OxyContin), hydrocodone (Vicodin, Lortab), and methadone (Dolophine).
Central nervous system depressants that include butalbital (Fiorinal/Fioricet), diazepam (Valium), and alprazolam (Xanax).
Stimulants that include methylphenidate (Ritalin) and amphetamine/dextroamphetamine (Adderall). (NIDA, 2020, June)
Source: SAMHSA, 2020, May.

Most-Abused Prescription Pain Relievers

Hydrocodone

Tramadol

Oxymorphone

Oxycodone

Buprenorphine

Hydromorphone

Codeine

Morphine

Fentanyl
Some characteristics of areas with higher opioid prescribing:
Small cities or large towns
Higher percent of non-Hispanic white residents
More dentists and primary care physicians
Higher percentage of unemployed or uninsured
Greater percentage of diabetes, arthritis or disability (CDC, 2017, July 6)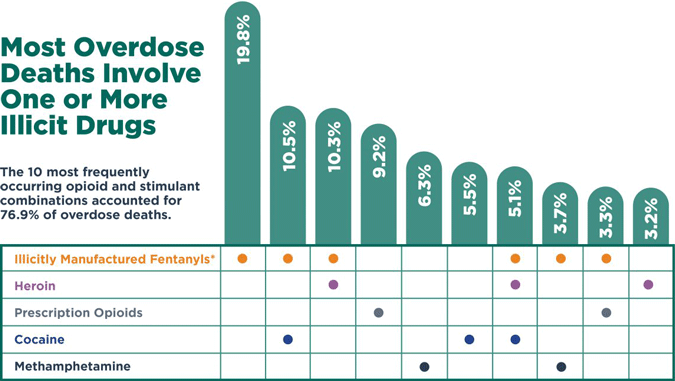 *IMFs include fentanyl and fentanyl analogs.
Source: CDC, 2020, September 4.
Overdose Deaths in New Jersey
"Eight lives are lost each day to the overdose epidemic in New Jersey," said Acting Health Commissioner Judith M. Persichilli. "We are committed to linking all those in need to treatment and services by engaging healthcare providers, harm reduction centers, local health officials, and emergency care providers in the fight to save lives."
NJ Health, 2020
The New Jersey Department of Health has implemented several initiatives to help reverse the tide of the opioid epidemic in the state.



Source: https://www.njcares.gov/
In New Jersey, several programs have been implemented or expanded:
Expanded the "5 Minutes to Help" training course for Emergency Medical Services staff to improve connections to care for non-fatal overdose victims.
Increased access to naloxone.
Working with hospital care providers through the Opioid Reduction Option (ORO) program to decrease opioid prescribing to treat chronic pain in emergency departments.
Expanding services at Harm Reduction Centers.
Continuing to improve data collection and analysis through the NJ Overdose Data Dashboard.
Supporting efforts by behavioral health providers to implement electronic health records and connection to other healthcare providers through the NJ Health Information Network (NJHIN).
Addressing the overdose epidemic through a health equity lens. (NJ Health, 2020)
3 in 5 People
Potential opportunities to link people to care or to implement life-saving actions were present for more than 3 in 5 people who died from drug overdose.
Source: CDC, 2020, September 4.