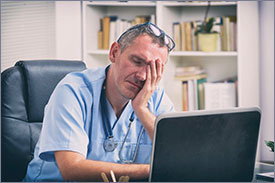 National Academy of Medicine. Used with permission.
Authors: Judy Davidson, DNP, et al.
Contact hours: 1
Expiration date: September 1, 2022
Course price: $10.00
Course Summary
The authors became concerned about the dearth of information about nurse suicide even though all had heard one or more stories in their own professional lives. They set about to collect everything that existed. It became clear that the first step in addressing the issue is to break the silence and then to come up with strategies for moving forward to break the cycle and develop prevention strategies.
All authors are listed in the Author Information Data at the end of Module 7. This course appears by permission of the authors, National Academy of Sciences, and National Academies Press.
Criteria for Successful Completion
A score of 80% or higher on the post test, a completed evaluation form, and payment where required. No partial credit will be awarded.
Accreditation
To find specific accreditations or approvals, click here.
Course Objectives
When you finish this course you will be able to:
Explain 2 reasons that nurse suicide has been ignored.
State at least 3 ways in which you can break the code of silence.
List 4 types of colleagues you can enlist in bringing nurse suicide to attention.
Find 3 sources of nurse suicide literature.
Discuss 2 occupational risks or pressures that may squelch the desire to break the silence.
Name 2 kinds of strategies for addressing this problem.