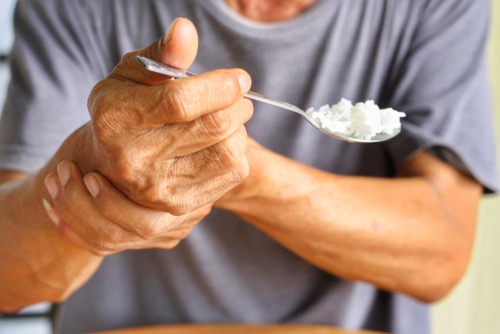 Shutterstock
For mail order or to view/download a printable copy of this course,
please click here.
Author: Lauren Robertson, BA, MPT
Contact hours: 10
Expiration date: December 1, 2023
Course price: $59
Course Summary
A thorough review of Parkinson's comprising its history, genetics, biomarkers, and rating scales, with particular emphasis on preserving gait and other motor and cognitive functions over the course of the disease. Includes a personal narrative by a patient who has Parkinson's.
The following course information applies to occupational therapy professionals:
Target Audience: Occupational Therapists, OTAs
Instructional Level: Intermediate
Content Focus:

Category 1—Domain of OT, Client Factors
Category 2—Occupational Therapy Process, Outcomes
Criteria for Successful Completion
A score of 80% or higher on the post test, a completed evaluation form, and payment where required. No partial credit will be awarded.
Accreditation
To find specific accreditations or approvals, click here.
Course Objectives
When you finish this course you will be able to:
Trace the history of "shaking palsy" in Western medicine.
Discuss the role of dopamine and Lewy bodies in Parkinson's disease.
Spell out the role of gene therapy in the treatment of PD.
Explain biomarkers and appraise commonly used PD rating scales.
Specify the most common motor symptoms found in PD.
Evaluate risk factors for falls and the various clinical tests for balance.
Describe non-motor aspects and symptoms associated with PD.
List common cognitive changes that occur as PD progresses.
Identify current strategies and those in development for the treatment of PD.
Evaluate rehabilitation treatment approaches for PD.
Discuss the issues related to providing excellent hospital care for patients who have PD.
Relate the difficulties associated with caring for a person with PD.
Describe the complications that arise in those with advanced PD.