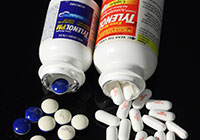 Shutterstock
To print course,
click here.
Authors:
   Tracey Long, RN, PhD, APRN
   Mark Nichols, PhD
   JoAnn O'Toole, RN, BSN
Contact hours: 2
Expiration date: February 1, 2024
Course price: $19
Course Summary
This course explores acetaminophen use and overuse with a focus on the signs and symptoms of liver injury and adverse effects. It also discusses FDA recommendations for various ages and at-risk populations.
The following course information applies to occupational therapy professionals:
Target Audience: Occupational Therapists, OTAs
Instructional Level: Intermediate
Content Focus: Content Focus: Category 1—Domain of OT, Client Factors
Criteria for Successful Completion
Study the course material, achieve a score of 80% or higher on the post test (the post test can be repeated if a learner scores less than 80%), complete the course evaluation, and pay where required. No partial credit will be awarded.
Accreditation
To find specific accreditations or approvals, click here. 
Course Objectives
When you finish this course you will be able to:
Explain the widespread use of acetaminophen both as an over-the-counter drug (OTC) and by prescription in combination with other drugs.
Discuss self-dosing of acetaminophen as an OTC drug and the hazard of unintentional overdose.
Describe the relationship of acetaminophen to acute liver failure.
State the currently recommended maximum 24-hour dose of acetaminophen and explain drug-drug and alcohol interactions.
Distinguish potencies of acetaminophen preparations for infants, children, and adults.
Discuss the FDA rulings on acetaminophen and their recommendations for the future.