Some close contacts, including healthcare workers, developed similar illnesses. In response to these developments, CDC issued revised interim guidance concerning infection control precautions in the health care and community setting.
For all contact with suspect SARS patients, careful hand hygiene was urged, including hand washing with soap and water; if hands were not visibly soiled, alcohol-based hand rubs could be used as an alternative to hand washing (CDC, 2020a).
The Core Infection Prevention and Control Practices for Safe Care Delivery in All Healthcare Settings recommendations of the Healthcare Infection Control Practices Advisory Committee (HICPAC) include the following strong recommendations for hand hygiene in healthcare settings (2020b).
Healthcare personnel should use an alcohol-based hand rub or wash with soap and water for the following clinical indications:
Immediately before touching a patient
Before performing an aseptic task (e.g., placing an indwelling device) or handling invasive medical devices
Before moving from work on a soiled body site to a clean body site on the same patient
After touching a patient or the patient's immediate environment
After contact with blood, body fluids, or contaminated surfaces
Immediately after glove removal (CDC, 2020b)
Healthcare facilities should:
Require healthcare personnel to perform hand hygiene in accordance with Centers for Disease Control and Prevention (CDC) recommendations
Ensure that healthcare personnel perform hand hygiene with soap and water when hands are visibly soiled
Ensure that supplies necessary for adherence to hand hygiene are readily accessible in all areas where patient care is being delivered
Unless hands are visibly soiled, an alcohol-based hand rub is preferred over soap and water in most clinical situations due to evidence of better compliance compared to soap and water. Hand rubs are generally less irritating to hands and, in the absence of a sink, are an effective method of cleaning hands.(CDC, 2020b)
Click here for more information on CDC Hand Hygiene guidelines for healthcare professionals.
The Inpatient Setting
When a suspected SARS patient was admitted to the hospital, infection control personnel were notified immediately. Infection control measures for inpatients included:
Standard precautions (e.g., hand hygiene); in addition to routine standard precautions, health care personnel should wear eye protection for all patient contact.
Contact precautions (e.g., use of gown and gloves for contact with the patient or their environment).
Airborne precautions (e.g., an isolation room with negative pressure relative to the surrounding area and use of an N-95 filtering disposable respirator for persons entering the room).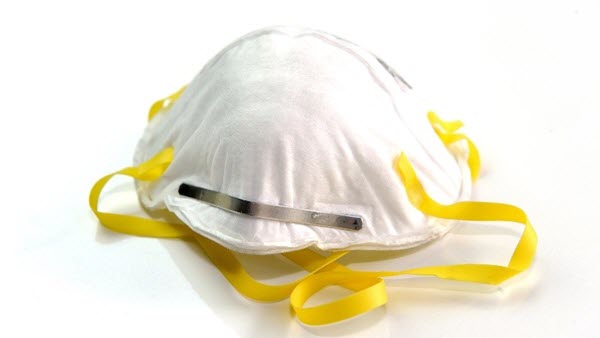 Source: FDA.
If airborne precautions cannot be fully implemented, patients were placed in a private room, and all persons entering the room wore N-95 respirators. Where possible, a qualitative fit test was conducted for N-95 respirators prior to use.
If N-95 respirators were not available for healthcare personnel, then surgical masks were advised. Regardless of the availability of facilities for airborne precautions, standard and contact precautions were implemented for all suspected SARS patients.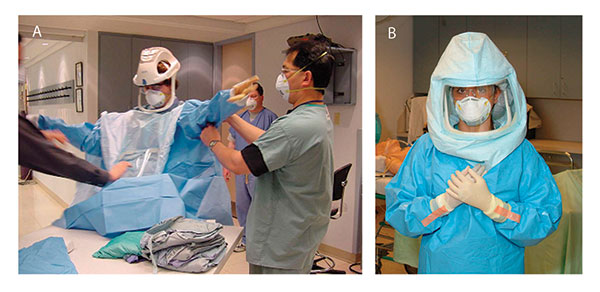 A: Person being helped in donning PEP. B: Fully protected person. Source: CDC.
Click here for infection control isolation guidelines from the CDC.
Outpatient Setting
The CDC advised that suspected SARS patients, on arrival to the outpatient or ambulatory setting (e.g., clinic or emergency department (ED), be evaluated in a separate assessment area to determine if they met the case definition for suspected SARS and required isolation. A surgical mask was placed on the patient when possible.
All healthcare personnel were advised to wear N-95 respirators while taking care of patients with suspected SARS. Precautions were taken when evaluating or transporting patients (e.g., for emergency medical technicians), or in any ambulatory healthcare setting (e.g., ED or clinic personnel). If N-95 respirators were not available, surgical masks were recommended.
Home Setting
CDC advised placing a surgical mask on suspected SARS patients during contact with others at home. If the patient was unable to wear a surgical mask, household members were advised to wear surgical masks when in close contact with the patient. Household members in contact with the patient were told to practice careful hand hygiene including hand washing with soap and water; if hands were not visibly soiled, alcohol-based hand rubs could be used as an alternative to hand washing.
Treatment and Reporting
There were no specific treatment recommendations for the SARS virus. Antibiotics do not work against viruses and antivirals did not work either. A mild case of SARS could be treated at home while maintaining isolation. A more severe case of the disease required hospitalization for supportive care.
Clinicians caring for suspected cases of SARS were advised to use Standard Precautions together with airborne (N-95 respirator) and contact (gowns and gloves) precautions. Eye protection was also recommended for all patient contact.
Healthcare providers and public health personnel reported cases of SARS to their state or local health departments.