This course is approved by the Washington State Department of Health for certified counselors and advisers, chemical dependence professionals, chiropractors, occupational therapists and assistants, physical therapists and assistants, pharmacists, and dentists. Approval #TRNG.TG.60824032-SUIC.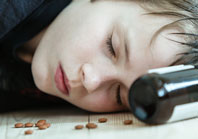 Shutterstock
For mail order or to  view/download a printable copy of this course,
please click here.
Authors:
   Fran Laughton, RN, PHN, MSN, FNP
   Lauren Robertson, BA, MPT
Contact hours: 3
Expiration date: December 21, 2023
Course price: $39
Course Summary
This course contains information on the scope of suicide in Washington State and nationally, warning signs, suicide screening and referral, and assessment of issues related to imminent harm via lethal means.
The following course information applies to occupational therapy professionals:
Target Audience: Occupational Therapists, OTAs
Instructional Level: Intermediate
Content Focus: Category 1—Domain of OT, Client Factors
Category 2—Occupational Therapy Process, Outcomes
Criteria for Successful Completion
Study the course material, achieve a score of 80% or higher on the post test (the post test can be repeated if a learner scores less than 80%), complete the course evaluation, and pay where required. No partial credit will be awarded.
Accreditation
To find specific accreditations or approvals, click here.
Course Objectives
When you finish this course you will be able to:
Explain the scope of suicide in the United States and Washington State.
Relate 5 warning signs for suicide.
Describe 3 principles of effective suicide screening.
Describe one appropriate referral resource each for high, medium, and low-risk clients.
Define imminent harm.
Describe the 2 responsibilities of pharmacists related to suicide prevention.