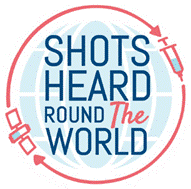 shotsheard.org
Authors: Sabin-Aspen Vaccine Science & Policy Group
Contact hours: 10
AOTA CEUs: 1.0
Expiration date: December 31, 2023
Course price: $29
Course Summary
The end of the COVID-19 pandemic will depend on our ability to address vaccine hesitancy, one of the top 10 threats to global health. Meeting the Challenge of Vaccination Hesitancy lays out actionable steps that leaders across healthcare, research, philanthropy, and technology can take to build confidence in vaccines and vaccinations. Even before the COVID-19 pandemic, worldwide measles outbreaks in communities with low immunization rates revealed gaps in the herd immunity that once protected us, including the United States' largest measles outbreak in 20 years in 2019. The troubling trend of declining vaccination uptake is fueled by complacency and loss of confidence in the system that develops, produces, recommends and delivers vaccines.
Bold, interdisciplinary, global action is urgently needed to ensure confidence in immunization, which is estimated to save between 2 and 3 million lives every year. Three 'Big Ideas' proposed in this report address the primary barriers to vaccine acceptance, provide a framework for progress, and sound a call to action. 
The Sabin-Aspen Vaccine Science & Policy Group brings together senior leaders across many disciplines to examine some of the most challenging vaccine-related issues and drive impactful change. Members are influential, creative, out-of-the-box thinkers who vigorously probe a single topic each year and develop actionable recommendations to advance innovative ideas for the development, distribution, and use of vaccines, as well as evidence- based and cost-effective approaches to immunization.
Meeting the Challenge of Vaccine Hesitancy is based on work funded in part by the Bill & Melinda Gates Foundation. The findings and conclusions contained within are those of the authors and do not necessarily reflect positions or policies of the Bill & Melinda Gates Foundation.
This report is reproduced with permission from the Sabin Institute.
Target Audience
Nurses, nurse practitioners, advanced practice nurses, physical therapists, physical therapy assistants, occupational therapists and occupational therapy assistants*.

 ATrain Education is an AOTA Approved Provider of professional development. Approved provider #6558. This distance learning-independent is offered at 1.0 CEUs, introductory, Foundational Knowledge. The assignment of AOTA CEUs does not imply endorsement of specific course content, products, or clinical procedures by AOTA.
Criteria for Successful Completion
Study the course material, achieve a score of 80% or higher on the post test (the post test can be repeated if a learner scores less than 80%), complete the course evaluation, and pay where required. No partial credit will be awarded.
Accreditation
To find specific accreditations or approvals, click here.
Conflict of Interest/Commercial Support Disclosure
The planners and authors of this learning activity have declared no conflicts of interest, vested interest, or financial relationship that may influence the content of this activity. All information is provided fairly and without bias.
ATrain Education, Inc. received no outside financial or commercial support in the preparation, presentation or implementation of this learning activity and has no affiliation with any company whose products or services are mentioned in this activity.
Course Objectives
When you finish this course you will be able to*:
Discuss 3 impediments to work on combating vaccine hesitancy.
Give three reasons that social movements may not be effective with anti-vaxxers.
Identify 5 elements that must be present for a winning approach to increased vaccination rates.
Name 6 objections to vaccination that are commonly heard today in the United States.
*Please note: attainment of course objectives will be assessed in the course evaluation.