Summary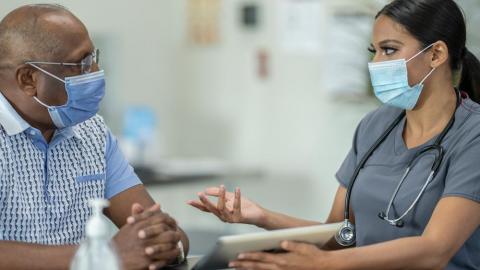 U.S. Department of Health and Human Services
This update alert clinicians about the recent rapid increase in certain SARS-CoV-2 Omicron subvariants circulating in the United States. It includes information on the 2021 to 2022 influenza season and recommendations for the upcoming 2022 to 2023 season. It discusses some important limitations of using pulse oximetry to detect hypoxemia. It discusses the management of nonhospitalized patients discharged from the emergency department (ED) and patients discharged after hospitalization. It notes that concerns related to SARS-CoV-2 viral rebound and the recurrence of COVID-19 symptoms should not be a reason to avoid the use of ritonavir-boosted nirmatrelvir. There are minor updates to the following Guidelines sections:
Remdesivir
Interleukin-6 Inhibitors
Vitamin C
Vitamin D
Zinc
Instructions
Click on the PDF link below to access this section.
Return to this page. Click "Next" below access the next section.
The last section provides a link to the quiz, registration, payment, and certificate.
1 COVID Treatment What's New