Summary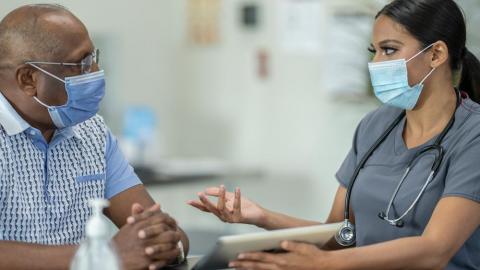 U.S. Department of Health and Human Services
Infection with SARS-CoV-2 and the resulting syndrome, COVID-19, have been associated with inflammation and a prothrombotic state, with increases in fibrin, fibrin degradation products, fibrinogen, and D-dimers. In some studies, elevations in these markers have been associated with worse clinical outcomes.
 
A number of studies have reported varying incidences of venous thromboembolism (VTE) in patients with COVID-19. A meta-analysis of studies in hospitalized patients with COVID-19 found an overall VTE prevalence of 14.1%. The VTE prevalence was higher in studies that used ultrasound screening than in studies that did not. In randomized controlled trials conducted prior to the COVID-19 pandemic, the incidence of VTE in non-COVID-19 hospitalized patients who received VTE prophylaxis ranged from 0.3% to 1% for symptomatic VTE and from 2.8% to 5.6% for VTE overall. The VTE incidence in randomized trials in critically ill non-COVID-19 patients who received prophylactic dose anticoagulants ranged from 5% to 16%, and a prospective cohort study of critically ill patients with sepsis reported a VTE incidence of 37%. VTE guidelines for non-COVID-19 patients have recommended against routine screening ultrasounds in critically ill patients because no study has shown that this strategy reduces the rate of subsequent symptomatic thromboembolic complications. Although the incidence of thromboembolic events, especially pulmonary emboli, can be high among hospitalized patients with COVID-19, there are no published data demonstrating the clinical utility of routine surveillance for deep vein thrombosis using lower extremity ultrasound in this population. 
Instructions
Click on the PDF link below to access this section.
Return to this page. Click "Next" below access the next section.
The last section provides a link to the quiz, registration, payment, and certificate.
Section 10: Antithrombotic Therapy