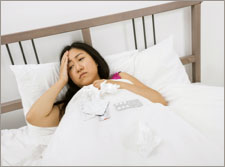 Shutterstock
For mail order or to view/download a printable copy of this course,
please click here
Authors:
     Fran Laughton, RN, PHN, MSN, FNP
     Lauren Robertson, BA, MPT
Contact hours: 14.5
Pharmacotherapy contact hours: 5
Expiration date: November 1, 2023
Course price: $59
Course Summary
Outlines efforts to improve pain management policies, procedures, and healthcare professional education in the United States. Covers both pharmacologic and non-pharmacologic treatment of pain and discusses the reasons for the startling increase in use, misuse, and abuse of prescription opioids. Describes pain management in special populations and offers effective tools for assessing and documenting pain. Describes common rehabilitation therapy treatments for pain, including manual therapy, therapeutic exercise, and ultrasound, among others as well as their effectiveness. Describes common complementary and alternative pain management techniques, including mediation, acupuncture, and yoga, among others. Describes barriers to effective pain management policies and procedures in healthcare organizations.
The following course information applies to occupational therapy professionals:
Target Audience: Occupational Therapists, OTAs
Instructional Level: Intermediate
Content Focus:

Category 1—Domain of OT, Client Factors
Category 2—Occupational Therapy Process, Outcomes
Criteria for Successful Completion
Study the course material, achieve a score of 80% or higher on the post test (the post test can be repeated if a learner scores less than 80%), complete the course evaluation, and pay where required. No partial credit will be awarded.
Accreditation
To find specific accreditations or approvals, click here.
Course Objectives
When you finish this course you will be able to:
Explain when morphine and heroin were first developed.
Name three patient populations that experience undertreatment of pain.
Define government's two major responsibilities under the Central Principle of Balance.
Discuss the purpose of a prescription drug monitoring program.
Explain three physiologic effects of unrelieved pain.
Define acute pain, chronic pain, and complex regional pain syndrome.
Compare and contrast two overall approaches to pain management.
List five common pain conditions.
Explain one over-reaching issue encountered in the treatment of pain in special populations.
State three practices that all healthcare professionals are encouraged to use in the assessment of pain.
Explain how depression and anxiety are related to chronic pain.
Identify three commonly used pharmacologic components of non-opioid analgesic pain management.
Define prescription drug abuse, tolerance, dependence, and addiction.
List three patient populations that have experienced large increases in prescription opioid overdose deaths in recent years.
Summarize three approaches to curbing prescription opioid abuse.
Identify three non-pharmacologic treatments that have been shown to be effective in the treatment of pain.
Describe three complementary or integrative approaches that have been shown to be effective in the treatment of pain.
Discuss three barriers to the effective management of pain in the healthcare system.