Note: For professions other than Case Manager, please go here for your course.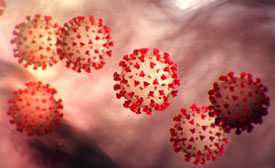 Source: CDC, 2020.
Contact hours: 12
Expiration date: August 25, 2021
Course price: $29
Authors:
JoAnn O'Toole, RN, BSN; Nancy Evans, BS: Susan Walters Schmid, PhD; Marian McDonald, RN, MSN; Tracey Long, RN, PhD, APRN; Lauren Robertson, BA, MPT
Course Approval
This course has been pre-approved by The Commission for Case Manager Certification for 12 contact hours. Activity Code: H00043176; Approval #200138089.
Course Summary
The very nature of healthcare settings makes them vulnerable to the spread of infections because they serve patients who are ill and are therefore susceptible hosts. Infection control and prevention and breaking the chain of infection are critical, especially during a pandemic. In view of the COVID-19 coronavirus pandemic sweeping across the globe, we offer this 15 contact hour course bundle at a special price of $29.
The course begins with an in-depth discussion of infection control/infection prevention policies required by the Centers for Disease Control and Prevention, including breaking the chain of infection, a primary component of safe, effective patient care.
The next section offers a thorough explanation of bloodborne pathogens, engineering and workplace practice controls, and the purpose of personal protective equipment (PPE). We continue with an overview of SARS-CoV-1, the coronavirus pathogen that in 2004 spread to 2 dozen countries, killing more than 800 people before it was contained. COVID-19 is a more infectious type of coronavirus, now officially named SARS-CoV-2.
We conclude with Flu, which describes the difference between seasonal and pandemic flu—a topic very much on our minds as we struggle to understand the behavior of the coronavirus. The course includes a review of what happened and what was learned from the 1918–1919 flu pandemic. We also describe how viruses are named, how they spread, and the importance of vaccination and other public health measures.
The following course information applies to occupational therapy professionals:
Target Audience: Occupational Therapists, OTAs
Instructional Level: Intermediate
Content Focus: Category 1—Domain of OT, Client Factors
Category 2—Occupational Therapy Process, Outcomes
Category 3—Professional Issues, Legal, Legislative, and Regulatory Issues
Criteria for Successful Completion
A score of 80% or higher on the post test, a completed evaluation form, and payment where required. No partial credit will be awarded.
Accreditation
To find specific accreditations or approvals, click here.
Course Objectives
When you finish this course you will be able to:
List the 6 components of the chain of infection.
Define bloodborne pathogens.
Name 4 clinical symptoms associated with SARS-CoV-1, the organism that caused the 2004 SARS epidemic.
Describe 3 differences between a seasonal and pandemic flu outbreak.