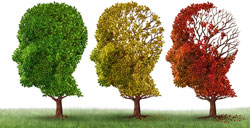 Shutterstock
Contact hours: 15
Expiration date: July 1, 2024
Course price: $29
Authors:
Cindy Kibbe, BS (CLS); Lauren Robertson, BA, MPT; Stephanie Zeman, RN, MSN; Susan Walters Schmid, PhD
Course Summary
The onset of Alzheimer's disease or other type of dementia is one of the most complex and troubling changes faced by individuals and their families. It's also a difficult issue for healthcare providers and professional caregivers, many of whom have received little or no training in how to address the physiological and psychological problems associated with dementia. Helping healthcare providers and caregivers better serve patients and families who are experiencing these difficult realities is one of the most important services we can provide. 
We offer this 15-unit combination of four courses covering many aspects of dementia: brain physiology, behavioral issues, distinguishing dementia from delirium and depression, and the critical role we can play in educating ourselves about dementia while providing support to the army of people caring for loved ones with dementia.
The course begins with a discussion of delirium and how it differs from dementia. It continues with a thorough explanation of Alzheimer's disease and common related dementias, including the parts of the brain affected by dementia and the types of changes you may see as a result. We conclude with commonsense guidelines for those working with people with dementia and a discussion of how healthcare providers and professional caregivers can support families and friends caring for a person with dementia. 
The following course information applies to occupational therapy professionals:
Target Audience: Occupational Therapists, OTAs
Instructional Level: Intermediate
Content Focus: Category 1—Domain of OT, Client Factors
Category 2—Occupational Therapy Process, Outcomes
Criteria for Successful Completion
Study the course material, achieve a score of 80% or higher on the post test (the post test can be repeated if a learner scores less than 80%), complete the course evaluation, and pay where required. No partial credit will be awarded.
Accreditation
To find specific accreditations or approvals, click here.
Course Objectives
When you finish this course you will be able to:
Define delirium and list at least 4 common symptoms.
State 3 ways in which dementia affects a person's ability to complete activities of daily living.
Explain the importance of love and other positive emotions for the person who has dementia.
State 3 reasons why caregiver support is a public health concern.